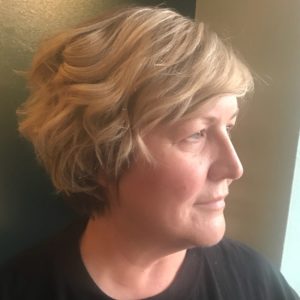 Shellie Garber
I am a self-taught artist. I live and work in Portland Oregon. I began painting in the summer of 2015, and soon discovered that I have deep passion for creating abstract art. My paintings are a combination of all the visual elements I love the most. Beautiful colors, interesting lines, shapes, patterns and marks as well as rich textures.
I try to convey a feeling of mystery, curiosity and imperfection in my work. I paint fast and spontaneously trying to capture a unique flash of emotional and visual energy. Creating a good piece of art is challenging, and often illusive, but once accomplished, nothing is more satisfying. It is this struggle and reward that brings me back to the canvas over and over again. 
I begin my paintings by building up layers. I play hide-and-seek with many of my marks and colors, bringing them out, and covering them up, keeping the work random and unexpected. I paint, draw, scrape, sand and collage until I begin to see an interesting, or beautiful composition taking shape. My intent is a somewhat distressed looking patina and texture, giving the work an aged look. A sense of history and imperfection. It is usually at this later stage that the title, or name comes to me. I then put on the finishing touches with a few purposeful marks, paint strokes or collage elements to define the composition.
My Paintings are signed and titled on the back. The canvas and wood paneled paintings are wired and ready to hang. Each one comes with a certificate of authenticity.
Current Gallery Representation.  Portland Art Museum Rental Sales Gallery, Portland OR., RiverSea Gallery, Astoria OR. and Bluestone Fine art, Philadelphia PA.
For more online, visit Shellie's gallery on Instagram @shelliegarberart.
    Exhibitions and Awards                                              
2019 October 19-November Rental Sales Gallery Fall Show. Portland Oregon.
2019 September 28 -December Remax Equity Art Show Portland Oregon.
2019 July New Gallery reresentation. Riversea Gallery, Astoria Oregon.
2019 June Lake Oswego Festival of the Arts Open tent exhibition. Lakewood Center.
2019- April 26 Portland Art Museum Rental Sales Gallery Juried Spring Exhibit. Portland Oregon.
2019- March Oregon Society of Artists Spring Exhibit- First Place Blue Ribbon and cash award won for "Fields of Gold".
2018 October – November Wake the Sloth Cafe Peterkort Center, Portland Oregon.
September 7 – October  ISEA  International art exhibition.  Runyon gallery, Newport Oregon.
2018 August – October  Chehalem Cultural Arts Center exhibition.
July – August  Canby Library, Canby Oregon.
2018 June 15 – July 15  Portland Art Museum Rental Sales Gallery New artist exhibition.
2018 June  Lake Oswego Festival of the arts summer show.
2018 February – April 2018  Clackamas County Arts Alliance Artists Exhibition Program, Oregon City.
2017 December  Big 500 Pioneer Place Mall, Downtown Portland Oregon.
2017 November – Current Bluestone Fine Art Gallery. Philadelphia, PA.
2017 October – December Tanner Building Solo Exhibit. Pearl District, Portland Oregon.
2017 September Little by Little Fundraiser/Art Exhibit. Milwaukie , Oregon 
2017 June  Lake Oswego Festival of the Arts. Open show. Lake Oswego, Oregon. 
2017 June 11  Saatchi Art "Artist of the Day" Site wide and social media feature.
2017 May  Saatchi Art Spring Catalog featured  "Pink Cadillac". 
2017 April Gallery at Cerulean, Portland Oregon. 
2017 March 12×16 Gallery, Sellwood Oregon. Month long exhibition featuring emerging women artists. 
2016, September  Verum Ultimum Gallery. Catalyst exhibit. Portland Oregon. 
2016, June Lake Oswego Festival of the Arts, Lake Oswego Oregon. Blue ribbon winner for "Gazebo"